Oscar 2018, tutti i vincitori
Seguiamo insieme la 90 edizione degli Oscar in diretta dal Dolby Theatre di Los Angeles. Di seguito la lista dei vincitori degli Oscar 2018 in aggiornamento live:
ATTORE PROTAGONISTA
TIMOTHÉE CHALAMET
Call Me by Your Name
DANIEL DAY-LEWIS
Phantom Thread
DANIEL KALUUYA
Get Out
GARY OLDMAN
Darkest Hour
DENZEL WASHINGTON
Roman J. Israel, Esq.
ATTORE NON PROTAGONISTA
WILLEM DAFOE
The Florida Project
WOODY HARRELSON
Three Billboards outside Ebbing, Missouri
RICHARD JENKINS
The Shape of Water
CHRISTOPHER PLUMMER
All the Money in the World
SAM ROCKWELL
Three Billboards outside Ebbing, Missouri
ATTRICE PROTAGONISTA
SALLY HAWKINS
The Shape of Water
FRANCES MCDORMAND
Three Billboards outside Ebbing, Missouri
MARGOT ROBBIE
I, Tonya
SAOIRSE RONAN
Lady Bird
MERYL STREEP
The Post
ATTRICE NON PROTAGONISTA
MARY J. BLIGE
Mudbound
ALLISON JANNEY
I, Tonya
LESLEY MANVILLE
Phantom Thread
LAURIE METCALF
Lady Bird
OCTAVIA SPENCER
The Shape of Water
FILM D'ANIMAZIONE
THE BOSS BABY
Tom McGrath and Ramsey Naito
THE BREADWINNER
Nora Twomey and Anthony Leo
COCO
Lee Unkrich and Darla K. Anderson
FERDINAND
Carlos Saldanha
LOVING VINCENT
Dorota Kobiela, Hugh Welchman and Ivan Mactaggart
FOTOGRAFIA
BLADE RUNNER 2049
Roger A. Deakins
DARKEST HOUR
Bruno Delbonnel
DUNKIRK
Hoyte van Hoytema
MUDBOUND
Rachel Morrison
THE SHAPE OF WATER
Dan Laustsen
COSTUMI
BEAUTY AND THE BEAST
Jacqueline Durran
DARKEST HOUR
Jacqueline Durran
PHANTOM THREAD
Mark Bridges
THE SHAPE OF WATER
Luis Sequeira
VICTORIA & ABDUL
Consolata Boyle
REGIA
DUNKIRK
Christopher Nolan
GET OUT
Jordan Peele
LADY BIRD
Greta Gerwig
PHANTOM THREAD
Paul Thomas Anderson
THE SHAPE OF WATER
Guillermo del Toro
DOCUMENTARIO
ABACUS: SMALL ENOUGH TO JAIL
Steve James, Mark Mitten and Julie Goldman
FACES PLACES
Agnès Varda, JR and Rosalie Varda
ICARUS
Bryan Fogel and Dan Cogan
LAST MEN IN ALEPPO
Feras Fayyad, Kareem Abeed and Søren Steen Jespersen
STRONG ISLAND
Yance Ford and Joslyn Barnes
DOCUMENTARIO (SHORT SUBJECT)
EDITH+EDDIE
Laura Checkoway and Thomas Lee Wright
HEAVEN IS A TRAFFIC JAM ON THE 405
Frank Stiefel
HEROIN(E)
Elaine McMillion Sheldon and Kerrin Sheldon
KNIFE SKILLS
Thomas Lennon
TRAFFIC STOP
Kate Davis and David Heilbroner
MONTAGGIO
BABY DRIVER
Paul Machliss and Jonathan Amos
DUNKIRK
Lee Smith
I, TONYA
Tatiana S. Riegel
THE SHAPE OF WATER
Sidney Wolinsky
THREE BILLBOARDS OUTSIDE EBBING, MISSOURI
Jon Gregory
FILM STRANIERO
A FANTASTIC WOMAN
Chile
THE INSULT
Lebanon
LOVELESS
Russia
ON BODY AND SOUL
Hungary
THE SQUARE
Sweden
TRUCCO
DARKEST HOUR
Kazuhiro Tsuji, David Malinowski and Lucy Sibbick
VICTORIA & ABDUL
Daniel Phillips and Lou Sheppard
WONDER
Arjen Tuiten
MUSIC (ORIGINAL SCORE)
DUNKIRK
Hans Zimmer
PHANTOM THREAD
Jonny Greenwood
THE SHAPE OF WATER
Alexandre Desplat
STAR WARS: THE LAST JEDI
John Williams
THREE BILLBOARDS OUTSIDE EBBING, MISSOURI
Carter Burwell
MUSIC (ORIGINAL SONG)
MIGHTY RIVER
from Mudbound; Music and Lyric by Mary J. Blige, Raphael Saadiq and Taura Stinson
MYSTERY OF LOVE
from Call Me by Your Name; Music and Lyric by Sufjan Stevens
REMEMBER ME
from Coco; Music and Lyric by Kristen Anderson-Lopez and Robert Lopez
STAND UP FOR SOMETHING
from Marshall; Music by Diane Warren; Lyric by Lonnie R. Lynn and Diane Warren
THIS IS ME
from The Greatest Showman; Music and Lyric by Benj Pasek and Justin Paul
MIGLIOR FILM
CALL ME BY YOUR NAME
Peter Spears, Luca Guadagnino, Emilie Georges and Marco Morabito, Producers
DARKEST HOUR
Tim Bevan, Eric Fellner, Lisa Bruce, Anthony McCarten and Douglas Urbanski, Producers
DUNKIRK
Emma Thomas and Christopher Nolan, Producers
GET OUT
Sean McKittrick, Jason Blum, Edward H. Hamm Jr. and Jordan Peele, Producers
LADY BIRD
Scott Rudin, Eli Bush and Evelyn O'Neill, Producers
PHANTOM THREAD
JoAnne Sellar, Paul Thomas Anderson, Megan Ellison and Daniel Lupi, Producers
THE POST
Amy Pascal, Steven Spielberg and Kristie Macosko Krieger, Producers
THE SHAPE OF WATER
Guillermo del Toro and J. Miles Dale, Producers
THREE BILLBOARDS OUTSIDE EBBING, MISSOURI
Graham Broadbent, Pete Czernin and Martin McDonagh, Producers
SCENOGRAFIA
BEAUTY AND THE BEAST
Production Design: Sarah Greenwood; Set Decoration: Katie Spencer
BLADE RUNNER 2049
Production Design: Dennis Gassner; Set Decoration: Alessandra Querzola
DARKEST HOUR
Production Design: Sarah Greenwood; Set Decoration: Katie Spencer
DUNKIRK
Production Design: Nathan Crowley; Set Decoration: Gary Fettis
THE SHAPE OF WATER
Production Design: Paul Denham Austerberry; Set Decoration: Shane Vieau and Jeff Melvin
SHORT FILM (ANIMATED)
DEAR BASKETBALL
Glen Keane and Kobe Bryant
GARDEN PARTY
Victor Caire and Gabriel Grapperon
LOU
Dave Mullins and Dana Murray
NEGATIVE SPACE
Max Porter and Ru Kuwahata
REVOLTING RHYMES
Jakob Schuh and Jan Lachauer
SHORT FILM (LIVE ACTION)
DEKALB ELEMENTARY
Reed Van Dyk
THE ELEVEN O'CLOCK
Derin Seale and Josh Lawson
MY NEPHEW EMMETT
Kevin Wilson, Jr.
THE SILENT CHILD
Chris Overton and Rachel Shenton
WATU WOTE/ALL OF US
Katja Benrath and Tobias Rosen
MONTAGGIO SONORO
BABY DRIVER
Julian Slater
BLADE RUNNER 2049
Mark Mangini and Theo Green
DUNKIRK
Richard King and Alex Gibson
THE SHAPE OF WATER
Nathan Robitaille and Nelson Ferreira
STAR WARS: THE LAST JEDI
Matthew Wood and Ren Klyce
SOUND MIXING
BABY DRIVER
Julian Slater, Tim Cavagin and Mary H. Ellis
BLADE RUNNER 2049
Ron Bartlett, Doug Hemphill and Mac Ruth
DUNKIRK
Mark Weingarten, Gregg Landaker and Gary A. Rizzo
THE SHAPE OF WATER
Christian Cooke, Brad Zoern and Glen Gauthier
STAR WARS: THE LAST JEDI
David Parker, Michael Semanick, Ren Klyce and Stuart Wilson
EFFETTI SPECIALI
BLADE RUNNER 2049
John Nelson, Gerd Nefzer, Paul Lambert and Richard R. Hoover
GUARDIANS OF THE GALAXY VOL. 2
Christopher Townsend, Guy Williams, Jonathan Fawkner and Dan Sudick
KONG: SKULL ISLAND
Stephen Rosenbaum, Jeff White, Scott Benza and Mike Meinardus
STAR WARS: THE LAST JEDI
Ben Morris, Mike Mulholland, Neal Scanlan and Chris Corbould
WAR FOR THE PLANET OF THE APES
Joe Letteri, Daniel Barrett, Dan Lemmon and Joel Whist
SCENEGGIATURA NON ORIGINALE
CALL ME BY YOUR NAME
Screenplay by James Ivory
THE DISASTER ARTIST
Screenplay by Scott Neustadter & Michael H. Weber
LOGAN
Screenplay by Scott Frank & James Mangold and Michael Green; Story by James Mangold
MOLLY'S GAME
Written for the screen by Aaron Sorkin
MUDBOUND
Screenplay by Virgil Williams and Dee Rees
SCENEGGIATURA
THE BIG SICK
Written by Emily V. Gordon & Kumail Nanjiani
GET OUT
Written by Jordan Peele
LADY BIRD
Written by Greta Gerwig
THE SHAPE OF WATER
Screenplay by Guillermo del Toro & Vanessa Taylor; Story by Guillermo del Toro
THREE BILLBOARDS OUTSIDE EBBING, MISSOURI
Written by Martin McDonagh
Morto Stan Lee a 95 anni: le reazioni di Hollywood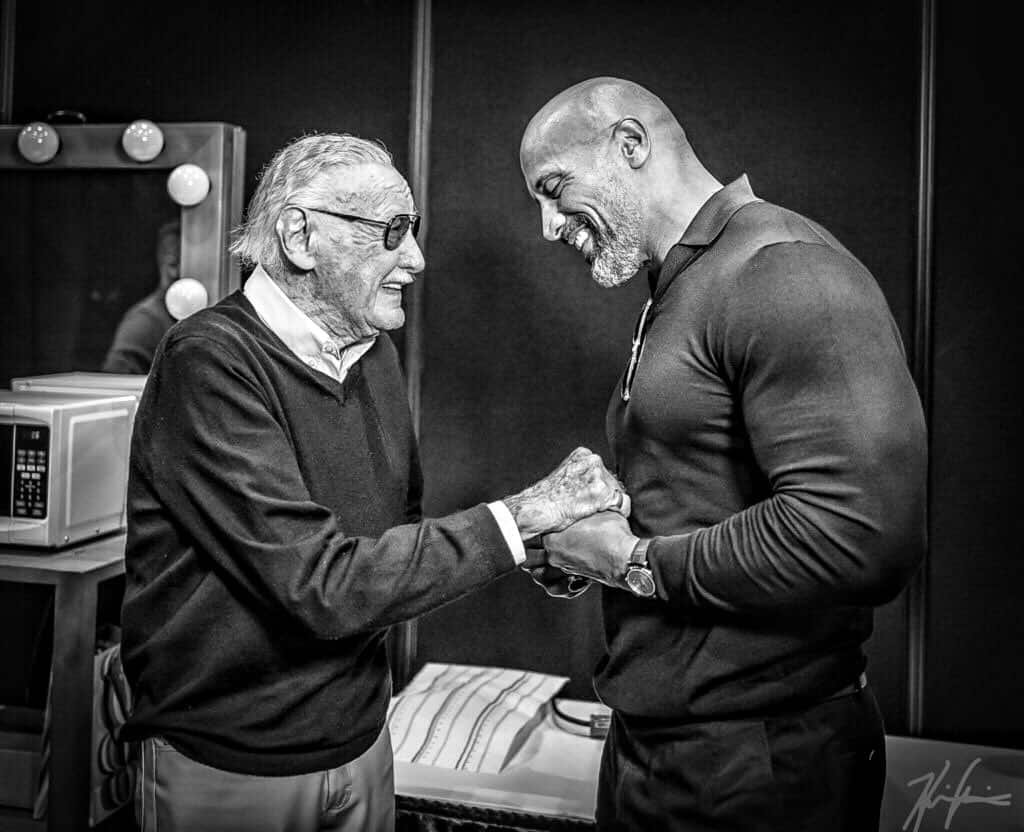 Tutto il mondo dei fumetti e del cinema si è rattristato alla notizia che la leggenda della Marvel Comics Stan Lee fosse morto all'età di 95 anni. Ora tutta Hollywood gli rende omaggio sui social e dal vivo, come potete vedere qui sotto.
Nato con il nome di Stanley Martin Lieber nel 1922, è conosciuto come co-creatore della maggior parte dei personaggi principali della genesi dell'Universo Marvel, tra cui The Incredible Hulk, The Mighty Thor, The Invincible Iron Man, The Astonishing Ant-Man e The Uncanny X-Men al fianco di Jack Kirby. Con Steve Ditko ha co-creato Doctor Strange e Spider-Man (probabilmente il personaggio più iconico della compagnia), così come Daredevil con Bill Everett. Ha anche rianimato i vecchi eroi di Timely degli anni '40 tra cui Sub-Mariner e Joe Simon e Jack Kirby's Captain America. Il gruppo di team The Avengers seguì nel 1963. Mentre altri personaggi iconici seguirono tra cui The Inhumans, Silver Surfer, Black Panther (il primo supereroe nero nei fumetti mainstream) e The Falcon, i principali contributi creativi di Lee nei primi anni 60 formarono il nucleo di Marvel Comics.
No one has had more of an impact on my career and everything we do at Marvel Studios than Stan Lee. Stan leaves an extraordinary legacy that will outlive us all. Our thoughts are with his daughter, his family, and his millions of fans. #ThankYouStan #Excelsior!

— Kevin Feige (@Kevfeige) 12 novembre 2018
Stan Lee created a universe where, if a character was beloved enough, they could never really die.

Now THAT'S thinking ahead.

Thanks for so much of my life. You'll never not be in it.

— Joss Whedon (@joss) 12 novembre 2018
Thank you for filling our childhoods with such joy. You will be dearly, dearly missed… pic.twitter.com/Qt2sZqaNlc

— Russo Brothers (@Russo_Brothers) 12 novembre 2018
There will never be another Stan Lee. For decades he provided both young and old with adventure, escape, comfort, confidence, inspiration, strength, friendship and joy. He exuded love and kindness and will leave an indelible mark on so, so, so many lives. Excelsior!!

— Chris Evans (@ChrisEvans) 12 novembre 2018
Thank you @TheRealStanLee for the escape from this world & great joy inhabiting the ones you created!! You made so many believe in the good, the heroic, the villainous, the exciting, most of all, you were giving & gracious to us all. RIP

— Samuel L. Jackson (@SamuelLJackson) 12 novembre 2018
We've lost a creative genius. Stan Lee was a pioneering force in the superhero universe. I'm proud to have been a small part of his legacy and …. to have helped bring one of his characters to life. #StanLee #Wolverine pic.twitter.com/iOdefi7iYz

— Hugh Jackman (@RealHughJackman) 12 novembre 2018
Today we lost one of the greats. @TheRealStanLee, you were a inspiration and superhero to us all. Thank you for contributing so much- and giving us all something to aspire to! 💚
#ripstanlee pic.twitter.com/GzFhwgU0WA

— Zoe Saldana (@zoesaldana) 12 novembre 2018
You were a man before your time… now it feels like you are gone before your time. RIP Stan the Man… thanks for the laughs and words of support. It's a honor to live in your universe! #MarvelKnight pic.twitter.com/1TXdPqUB3x

— Anthony Mackie (@AnthonyMackie) 12 novembre 2018
Damn… RIP Stan. Thanks for everything. pic.twitter.com/TMAaDJSOhh

— Ryan Reynolds (@VancityReynolds) 12 novembre 2018
Taking a moment to thank the great @therealstanlee for his kindness and allowing me to play one of his favorite characters. The experience I had on #thefantasticfour playing #suestorm #invisiblewoman was so… https://t.co/gbApPlLOub

— Jessica Alba (@jessicaalba) 12 novembre 2018
Stan…more than a master of stories, you always seemed like a master of living. I will look to you for inspiration for the rest of my life. You live on. xoxo Your Wasp
.
#liveon #StanLee pic.twitter.com/JRA2aRM3bG

— Evangeline Lilly (@EvangelineLilly) 12 novembre 2018
Farewell, my friend. You're not only responsible for the boy I was, but also the man I am today. I will miss you all my days. Read it all here: https://t.co/3ni6SLKhWW pic.twitter.com/6naCfXP7HO

— KevinSmith (@ThatKevinSmith) 12 novembre 2018
What a man. What a life.
When I first broke into Hollywood, he welcomed me with open arms and some very sage advice I'll forever take to heart.
A true icon who impacted generations around the world.
Rest in love, my friend. #imagination #stanlee 💫 pic.twitter.com/dw3FXMgyHp

— Dwayne Johnson (@TheRock) 12 novembre 2018
His contribution to Pop Culture was revolutionary & cannot be overstated. He was everything you hoped he would be & MORE. I loved this man & will never stop missing him. They say you should never meet a childhood idol. They are wrong. #RIPStanTheMan pic.twitter.com/6OKH07ahJg

— Mark Hamill (@HamillHimself) 12 novembre 2018
We lost a real-life superhero today. Stan Lee was a visionary, who elevated imaginations across the globe. I'm grateful for the time I got to spend with him. Rest peacefully, Stan. pic.twitter.com/Ie2S18y0A0

— Larry King (@kingsthings) 12 novembre 2018
Toy Story 4, il trailer ufficiale del film d'animazione
Disney • Pixar ha realizzato il primo trailer ufficiale di Toy Story 4 che puoi vedere nel player qui sopra. Woody e il resto dei giocattoli sono tornati per un'avventura completamente nuova in Toy Story 4, accogliendo nuovi amici nella stanza di Bonnie, tra cui un riluttante nuovo giocattolo chiamato Forky.
"Come molte persone ho pensato che Toy Story 3 fosse la fine della storia" ha dichiarato il regista Josh Cooley. "Ed è stata la fine della storia di Woody con Andy. Ma proprio come nella vita, ogni fine è un nuovo inizio. Woody ora è in una nuova stanza, con nuovi giocattoli e un nuovo ragazzo…qualcosa che non avevamo mai visto prima. E' divertente esplorare una nuova storia". Forky insiste sul fatto che non è un giocattolo! Come un vero e proprio progetto artigianale, Forky è abbastanza sicuro di non appartenere alla stanza di Bonnie. Sfortunatamente, ogni volta che tenta di andarsene, qualcuno lo riporta in un'avventura che preferirebbe saltare.
"Il mondo di Toy Story è basato sull'idea che tutto nel mondo ha uno scopo" ha detto Cooley. "Lo scopo di un giocattolo è essere lì per il suo bambino. Ma per quanto riguarda i giocattoli realizzati con altri oggetti? Forky è un giocattolo che Bonnie ha realizzato con un oggetto usa e getta, quindi sta affrontando una crisi". I registi hanno chiesto al comico Tony Hale di fornire la voce a Forky. "È una grande emozione far parte della famiglia Toy Story" ha detto. "Ma ci vorrà un po' prima che io entri davvero nel profondo". Ha detto Cooley, "Quando abbiamo ideato questo personaggio, Tony è stato il primo attore a venirmi in mente e sono entusiasta che abbia accettato. La performance di Tony come Forky è un mix di confidenza, confusione ed empatia…servita da spagnoli esilaranti". In che modo i cineasti sono riusciti a convincere Hale a dare voce a Forky? "La crisi esistenziale di un utensile?" Chiese. "Sono dentro!"
Entrando a far parte di Tony Hale nel film in uscita, sono tornati i membri del cast Tim Allen, Tom Hanks, Annie Potts, Patricia Arquette e Joan Cusack. Toy Story 4 si avventura nei cinema degli Stati Uniti il ​​21 giugno 2019.
Santiago, il trailer ufficiale del nuovo film di Nanni Moretti
Il 6 dicembre arriva al cinema Santiago, il nuovo film di Nanni Moretti che chiuderà il Torino Film Festival 2018 il prossimo 1 Dicembre.  Dal Settembre 1973, dopo il colpo di stato del generale Pinochet, l'Ambasciata italiana a Santiago ha ospitato centinaia e centinaia di richiedenti asilo. Attraverso interviste ai protagonisti si racconta la storia di quel periodo drammatico, durante il quale alcuni diplomatici italiani hanno reso possibile la salvezza di tante vite umane.
Potete vedere il trailer di Santiago nel player qui sopra.